5 protection classes of motorcycle clothing
The EN 17092 standard defines both the material and construction requirements for motorcycle clothing and the ergonomic requirements for riding activities. There are a total of 5 protection classes, with the AAA class offering the highest level of protection and the A class the lowest. Classes B and C are considered as additional protection.
Class AAA: Typical examples of this class are one- or two-piece leather suits suitable for use on racetracks. These models have particularly high abrasion resistance, but offer low ergonomic flexibility. (The standard applied is EN 17092-2)
Class AA: Motorcycle clothing in this class is well suited for touring riders. This class protects against weather conditions and has a relatively high abrasion resistance. The driver's ergonomics are less affected than with the AAA class. (The applied standard for this is EN 17092-3)
Class A: This class restricts the driver the least in his mobility. The clothing is light, well suited for leisure and city driving, but also provides the lowest abrasion protection. (The applied standard for this is EN 17092-4)
Class B: Clothing in this class does not provide impact protection, only abrasion protection. (The applicable standard is EN 17092-5)
Class C: This class includes protector ensembles which are held together with only one carrier made of mesh material and therefore only offer impact protection. (The applied standard for this is EN 17092-6)
The protection class defines, among other things, the robustness of the protective equipment.
Requirements for the labelling of motorcycle clothing
Personal protective equipment that meets the requirements of Regulation (EU) 2016/425 should also be CE marked. The label of the motorcycle clothing must contain a pictogram of a motorcyclist, the protection class achieved and the standard according to which the clothing was tested.
In addition to the pictogram, there must also be a "booklet sign" on the label. This is an indication to the customer that the product is accompanied by manufacturer information. The manufacturer's information contains the following information:
Instructions on how the customer selects the appropriate protection class.
Declaration to the CE label.
Instructions on how to combine the motorcycle clothing with other protective elements and how to use and adjust the protectors.
Detailed explanation of the protection class.
Instructions on how to store and dispose of the protective equipment.
The classification of protective equipment shall follow certain marking characteristics.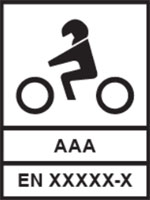 Go to Product Compliance